Posted on
By Warrenton Hobby Shoppe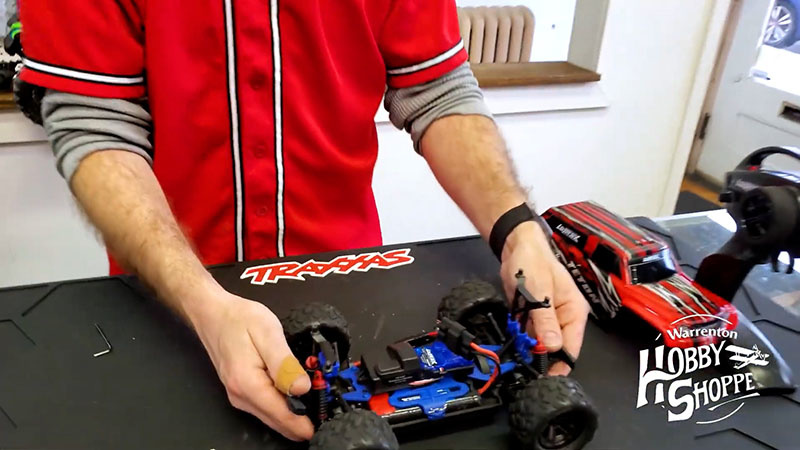 Upgrading the Shocks on your RC Car

Are you looking to upgrade the shocks on your RC Car? It is actually pretty simple to do on your own. Check out our video and our step by step guide below.

Step 1: The first thing you want to do is pop off the body clips
Step 2: Remove the body from the frame
Step 3: Start with removing the front shocks

If you don't have a great tool kit, we highly recommend the Dynamite set, we have found it to be one of the best tool set for the small parts on RC Cars

Step 4: Remove the front clips with the bigger flat head that comes with the dynamite kit
Step 5: Put the tool in between the shock and bulkhead and the the top slides off (this removed the top of the shock)
Step 6: Turn the car over
Step 7: Put the tool between the shock and the bulkhead and the shock will come right off (this removes the bottom of the shock)
Are you looking to upgrade the shocks on your RC Car? It is actually pretty simple to do on your own. Check out our video and our step by step guide below.
Step 1: The first thing you want to do is pop off the body clips
Step 2: Remove the body from the frame
Step 3: Start with removing the front shocks
If you don't have a great tool kit, we highly recommend the Dynamite set, we have found it to be one of the best tool set for the small parts on RC Cars
Step 4: Remove the front clips with the bigger flat head that comes with the dynamite kit
Step 5: Put the tool in between the shock and bulkhead and the the top slides off (this removed the top of the shock)
Step 6: Turn the car over
Step 7: Put the tool between the shock and the bulkhead and the shock will come right off (this removes the bottom of the shock)
As a side note, the bottom retaining clips come off and go right back on, if you lose or break them we do sell replacements.
To put the shock back on you to it in opposite order. You want to make sure the black part up and the retainer on the bottom so the shaft is on the bottom
Step 8: All you do is use your fingers and give the shock a little push, it will snap into the bottom side
Step 9: Do the same thing and give a little push and it will snap in place on the top side
At Warrenton Hobby Shoppe, we also sell Upgraded shocks, we have several options check out our website – one of the ones referenced in our video is:
Hot Racing Aluminum Shocks – these are all metal and aluminum, they are completely adjustable
Another upgrade you can do is the belt crank. Can upgrade the belt crank as well, all aluminum, helps you not break any of the plastic that comes on the stock shocks
Another great little upgrade is the wheels nuts we have a red wheel washer nut that adds a nice extra touch over the black stock nuts.
For any of your RC Car part and accessory needs visit us at Warrenton Hobby Shoppe or order online.